---
Let Your Heart Be Stolen This Valentines Day !

Enjoy your shave with our newest scent Stolen Heart!  Rich notes of redwood, cedar wood, black amber, patchouli all softened by our special blends of Vanilla. We top this off by making this in our new "Kaito" shaving soap base.
Kaito is our new formula that is still vegan but rivals Tallow. Our Kaito Base is rich thick shaving cream that loads easily, stays thick throughout all three passes. Kaito leaves your skin feel hydrated  and smooth after your shave! 
Stolen Heart comes in our new 4oz jars crafted especially for wet shaving! We crafted the jars to be like mini shaving bowl! They feel great in your hand and take up less space on your counter.  Our new jars makes loading our new Kaito base a breeze . We think once you try them you'll agree that this is a great way to use and store your Black Ship Grooming Shaving Soaps!

Stolen Heart is just what you need for your special Valentines day date!
Each batch of our artisan shaving soap is made by hand. We make each one in small batches so we can use the freshest ingredients to provide you with the very best quality shaving soap that you can get.
Our soaps protect your face from nicks and razor burn by creating a superior slickness that will help keep your razor gliding smoothly across a thick rich cushion of lather

Every soap is 4ozs and comes in our 6 oz plastic jar so you can store them with ease and whip up your lather without making a mess.

Our special plastic tubs feel great in your hands and won't rust if you're a shower shaver.
You don't need a lot of soap to get a great shave. Our soaps could be used from 4 to 6 months depending on how you load your brush. 
How to use: Do not bloom our soaps. Run your shaving brush under hot water then swirl your wet brush tips over the soap till you load the desired amount of soap. Then simply brush your soap onto your face. You're ready to for a great shave. 
Ingredients: Coconut oil, shea butter, stearic acid, Palm oil, castor Oil,potassium hydroxide, water, glycerine, fragrance and essential oils. 
All shaving soaps are 4 oz net weight
Customer Reviews
Write a Review
Ask a Question
Filter Reviews:
keeper
heart
vanilla scent
calypso
shipwreck cove
improvement
container
base
aroma
staying power
06/27/2021
Alec E.

Mexico
Great performance
This is my first soap from you and i was pleasantly surprised, the aroma is really nice and it last a long time on you, the lather is awesome and really thick, ill be buying more for sure.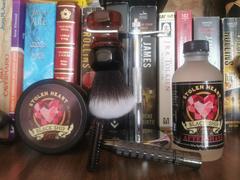 07/24/2021
Black Ship Grooming Co.
Thank you for sharing and we love the brush! Well done Savvy!
06/06/2021
John L.

United States
The scent is great!
I took a shot on this scent, as I normally don't go for woody/patchouli fragrances, hoping that the vanilla would be to my liking. I definitely enjoy this fragrance. I normally don't use aftershave, but I would consider the Stolen Heart aftershave as well. I'm just sad that it's gone until February.
04/07/2021
Anonymous

United States
Amazing
I love the base. It makes my skin feel amazingly smooth. You almost don't even feel the razor when it glides across your face. The scent is addicting. Once I opened it, I almost couldn't put it down. Will definitely buy again. And the new style jar is a space saver!
02/28/2021
Anonymous

United States
Stolen Heart is Fantastic!
The vanilla scent on Stolen heart is phenomenal. It also has great staying power. After I shaved and used the splash my wife said, "what is that, I love that one". This is a keeper for sure!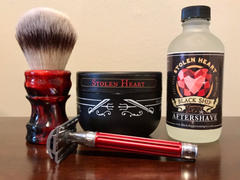 03/13/2021
Black Ship Grooming Co.
Thank you for sharing and thank you for sharing your photo! Were really happy to see we were able to steal your wife's heart for you!
02/22/2021
Casey

United States
Good base!
Is a impressive improvement to the old base. Slick, hydrating, and easy to use.The container is easy to lather from. I would love to have this in shipwreck cove, davy jones, and calypso.
03/13/2021
Black Ship Grooming Co.
Hi Casey, Your wish is going to happen! we have decided that we are going to be transitioning all of our soaps to our new base and in our new jars. This will happen over time so stay tuned!
This section doesn't currently include any content. Add content to this section using the sidebar.