Calypso's Curse:  A beautiful sea nymph that kept Odysseus for seven years, but she could not overcome his longing for home even by promising him immortality. At last, the god Hermes was sent by Zeus, the king of the gods, to ask her to release Odysseus. Our Calypso's Curse will enchant you for just like the original Calypso, Are you man enough to resist her charms or will you too fall under her Curse! Made from a mysterious blend of Oud, Green Herbal Scents, Birchwood, Amber, Rain and Ozone
Our Shaving soaps have a soft base that makes them easy to load and lather. You really don't need a lot to get the thick rich lather that you need. Once you try our soaps you'll see that nothing can compare to them. You get a slick, smooth nick free shave that will leave your skin feeling soft and moisturized. 
All of our shaving soaps come in our handsome 4oz jars that are ready for you to load your shaving brush directly in the jar. Once you're done you can put the lid back on for your next shave. Easy and tidy without all the fuss. 
You can find the matching Aftershave here!
Never Bloom our soaps
Customer Reviews
Write a Review
Ask a Question
Filter Reviews:
calypso
scents
Curse
pirate theme
artwork
sniff
addiction
Shaving Soaps
many
review
07/30/2021
William G.

United States
Super Fantastic!
Another super awesome product - no surprise there, My first Black Ship purchase was Phillips Fougere, (still my favorite fougere), and with it I received a small sample of Calypso's Curse. As soon as I smelled it I knew I had to have a set and boy oh boy was I not disappointed. But this is what you can expect from Black Ship. Super freakin' fantastic scents combined with the best performance. Oh, and guess what was tucked inside the package I received in the mail? Yep. another sample.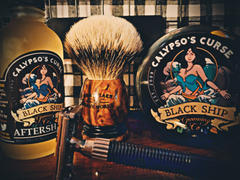 08/02/2021
Black Ship Grooming Co.
Thank you for your kind words William! We Think the picture is awesome, Well done Savvy!
05/02/2021
Mark F.

United States
Calypso's Curse Shaving Soap
I've purchased or sampled pretty many of BSG's Shaving Soaps, and I have to agree with the previous review that this is one of my favorite scents from all the ones that I have tried so far. Easily in the Top 5. Clean, fresh, and enchanting indeed. The "Curse" that Calypso has wrought upon me is an addiction to the scent so that every time I pass the bathroom I find myself unscrewing the lid from the tub so I can get just one more sniff. I love the pirate theme and love the artwork on this one.
05/18/2021
Black Ship Grooming Co.
To make the curse worse, we have come up with a matching Eau de Cologne to complete the curse. Ye have been warned!
Calypso's Curse Shaving Soap
This is one of my favorite soaps it has a scent that smells good and my wife agrees. It has a clean smell and not over powering but an enticing smell. My wife said she really likes it and wishes I had bought the aftershave or if there was a cologne or an Eau de Toilette.
This section doesn't currently include any content. Add content to this section using the sidebar.