The Black Rose Shaving Soap 4oz Tub
The Black Rose: is a rose like no other, it's special blend of basil, pear, rosemary, pepper, papaya, patchouli and a hint of English rose. If you worried that this will smell too much like a rose dont worry, it doesn't it has just a hint.
Every Batch of our artisan shaving soap is made by hand in small batches. We do this to offer some of the very best shaving soaps that you can use. Our shaving soaps will help protect your face from nicks and razor burn by providing you a thick, rich cushion for your razor to glide on. Our soaps offer superior slickness that will help keep that smooth feel as your razor glides on a protective cushion.
Our soaps come in our 4 oz Plastic Jars which make it easy for you to store and stack them as well as lather your soap without making a mess.
Ingredients: Coconut Oil, Shea Butter, Stearic Acid, Water, Potassium Hydroxide, Glycerin
Customer Reviews
Write a Review
Ask a Question
Filter Reviews:
scent
soap
majority
hope
light
darkness
base
another
Great
07/10/2021
Mark F.

United States
The Black Rose - The Beautiful Darkness
The sweet delicate rose scent that first emerges is quickly replaced by the haunting black darkness that immediately overtakes it, and you are forced to abandon any hope that the light will ever emerge again. A very unique scent. The majority of BSG's soaps have a very clean, light, fresh base underneath, which is then followed by the top notes. This is a really good mid-strength scent that really stands out. Very satisfyingly.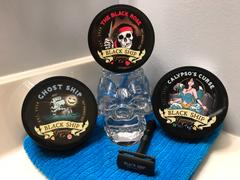 03/18/2021
William G.

United States
shaving mAGNIFICENCE
As usual B.S.G. has put together a terrific combination of performance and scent. THE SUBTLE MASCULINE SCENT IS A WONDERFUL ASSAULT ON THE NOSe. THe thick flowing lather is easy to create and causes the razor to float over the skin. what a shave!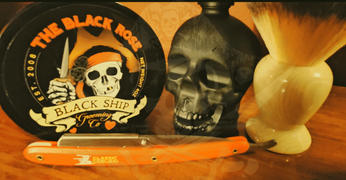 03/19/2021
Black Ship Grooming Co.
Thanks for the Great Picture William! Stay Ship Shape!
12/17/2020
Anonymous

United States
Great scent
Another Great soap, ordered another since this 1 has to dropped.
10/21/2020
Anonymous

United States
Great soap
Really nice scent and a rich slick lather. Would definitely buy again.
The Black Rose Shaving Soap
Love the scent. It's subtle but refreshing. The lather and post shave feel is second to none. Used the first time during ECWS pass around and had to purchase this soap. Thanks
This section doesn't currently include any content. Add content to this section using the sidebar.