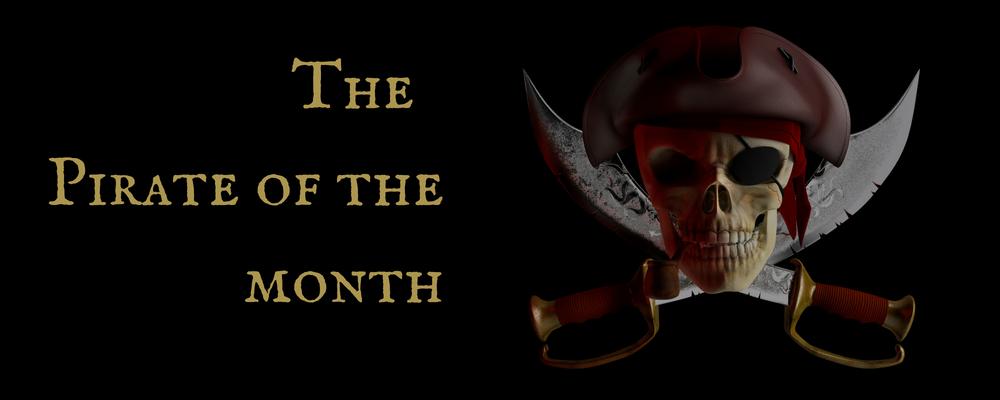 July's Pirate of the Month
Happy July Me Hearties, This month we have a new Pirate aboard the Black Ship. Let's see how he answers Captain Kelly's Questions.
July's Pirate of the month is:
Curtis George
Capt. Kelly
 How Long ago did you start wet shaving & Why?
 Curtis: I started wet shaving three years ago after many years with a beard. I shaved off the beard and I was looking for a better way to get a close comfortable shave then the disposable cartridges and the canned goop was giving me. My very first soap was Pirate's Bay (which is still one of my favorites) and the rest is history.
Capt. Kelly If you could have only one  Razor, What would it be and Why?
Curtis:  I have lots of razors. There is one that I find myself using the most, that would be my  Cleanestiq double edge razor with a wooden handle. It is not a common razor. It is a great daily shaver. The wooden handle has a great shape that fits perfectly in my hand and the grip is perfect, it never slips. However, my great grandfather's 1929-33 Gem Micromatic single edge razor is a family heirloom, and one of my prized possessions, that I would never part with. It is also a great shaver, especially if I skip a day of shaving.
Capt. Kelly Are you a Face Lather or a bowl lather person Why do you like to face lather or bowl lather?
Curtis: I have completely stopped loading in my containers.

I use the back of a spoon and put about the size of my thumbnail of soap in a bowl, for a one pass shave, double that for multiple passes.

I know there is the whole bloom, don't bloom debate. I am certainly not for blooming in the container. However, I will bloom some harder soaps in a shave bowl.

Reasons I load in a bowl:

1) It is less messy.

2) I don't have to worry about making sure the soap is dried enough before putting away. I just close the lid and put on the shelf.

3) I am finding that the scents seem to be keeping their strength better.

4) I think there is less chance of the soap going bad too. Goes back to not drying them well enough. If they don't get wet to start with...

This is just what I have found works best for me.
Capt Kelly:  What type of scents do you like?
Curtis: I tend to like spicy scents the most, however, I also gravitate to fruity scents also.
Capt Kelly:  What is your favorite scent?
Curtis: My two favorite scents are Pirate's Bay and Ghost Ship.
Capt. Kelly:  What did you shave with today?
Curtis: Today is July the 4th and I shaved with the East Coast Wet Shavers Second annual Meet-Up soap (held in Philadelphia), Independence made by Passionately Natural Soaps.
Capt Kelly: If you were a Pirate Captain what would you name your boat?
Curtis: The Poseidon's Pun, I teach ancient history and mythology and am known for my puns.
Capt. Kelly: What would your pirate name be and why would you choose that name?
Curtis: Quartmaster George, The Pirate quartermaster was the navigator of the ship.
Capt. Kelly:  Tell us something around you that we don't know?
Curtis: My family owns the oldest Record Store in the United States, George's Song Shop.
Capt. Kelly: What is your day job
Curtis: Ancient World History Teacher.
We would like to thanks to Curtis for being our Pirate of the month! it's always fun to see our shaving world from a different point of view. Thank you, Quartermaster George, Sail on and stay tuned for next months pirate of the month. 
If you would like to try the two scents that are Curtis's favorites here is a link to both soaps Pirate's Bay and Ghost ship!